Thank god it's Friday night, and I just (just just just just) got paid. Not really. But I did dance to the legendary boyband as per usual on my bed for the past half hour.
So, I have many bookmarks. By many, I mean a pathetic amount that tells who I spend too much time on the computer. Does 200+ bookmarks seems like a lot? Pfft. I just cut out 300 of them over this past week to get to two hundred.
Things I am visiting daily:
Anything Patrick Demarchelier

. He does no wrong. Truly. Fashion You has a wonderful post all about the genius, you should check it out. I stumbled upon another editorial of his and now I want to find my sequined magenta cape.
The Stephenson

. Amazing jeans, I love the buttons so much. The white jeans don't look half bad and normally I twitch at white jeans. Seriously though, look at those shorts and tell me you don't want them.
Her and

her home

. Johanna is a modern day Queen Marie if only in the looks and whimsy. Her blog is an absolute delight, and her house is ridiculously awesome on all levels.

Agatha Ruiz de la Prada F/W 08.09 Madrid.

When I thought of it....well, I'll let the pictures speak for me...

.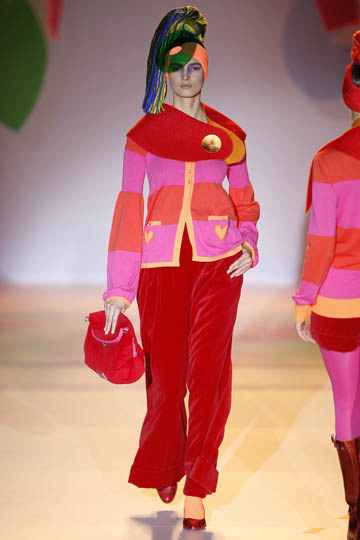 Things Asian People Like. Absolutely hilarious blog only because it's true. I live a life of cliches, Jewish best friends, and DDR. Nix on the math camp, though; true asians fly halfway across the world to their aunts illegal summer boot camp when they're six and do homework 12 hours a day. Just sayin'.